Center For Resource Management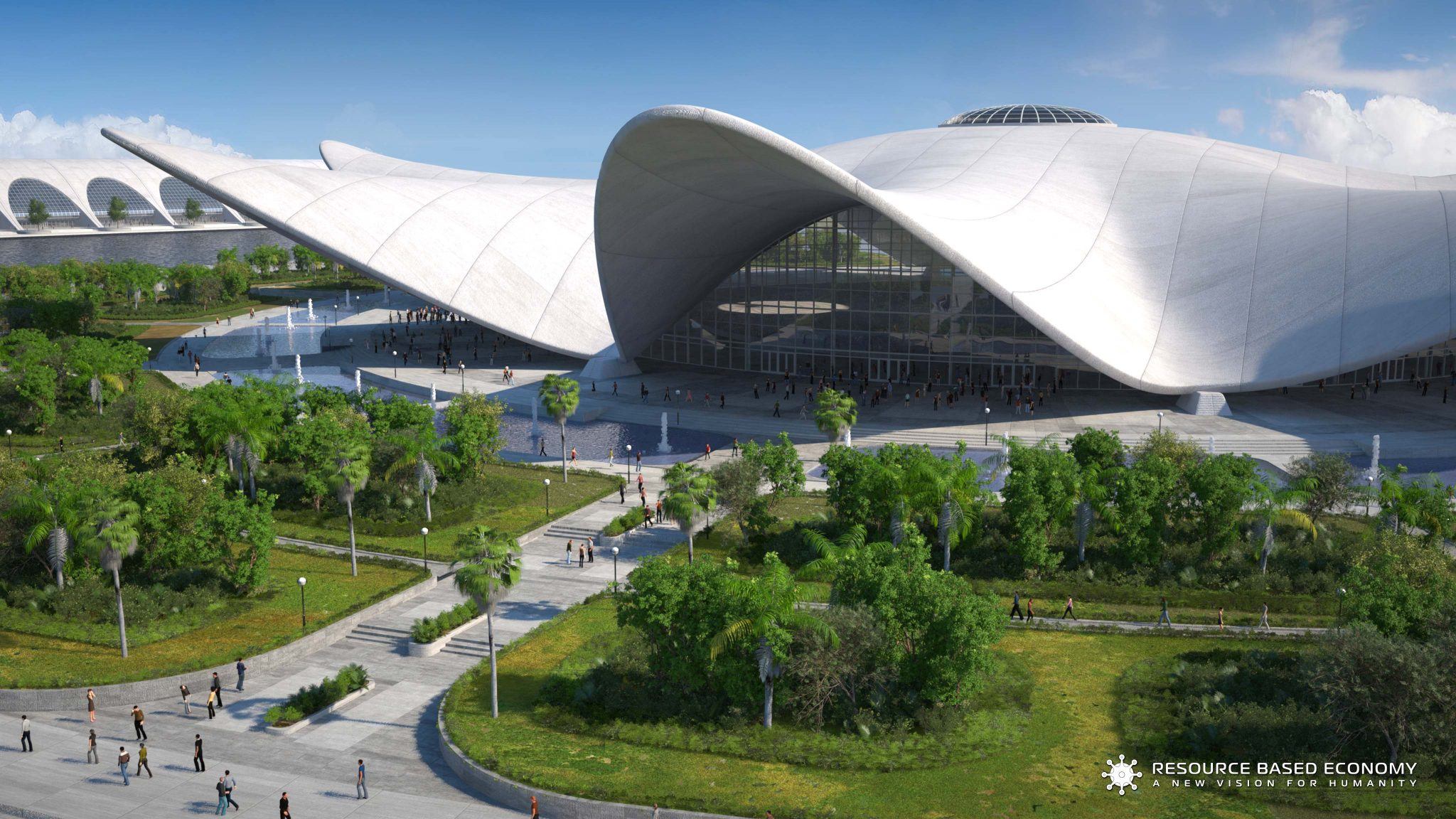 Project Description
The Resource Based Economy NPO has begun development of its first project: the Center for Resource Management. This facility will be the area of a mid-sized university campus and will act as a stepping stone towards the development of our proposed experimental cities.
The goals that the Center for Resource Management is set to accomplish are as follows:
Develop housing, transportation, production, distribution and recycling protocols and various other systems and infrastructure for the first experimental city
Welcome hundreds of thousands of visitors per year and introduce them to the concept of a Global Resource Based Economy and its methodology for addressing the major challenges facing humanity
Produce movies, shows, books, articles, animations, imagery, music and many other forms of media to reach the worldwide community and present the Global Resource Based Economy to them
Engage scientists, technicians, and other disciplines, as well as universities from around the world and, in collaboration with them, initiate global planning for a secure and prosperous future for all of humanity
Demonstrate working solutions for social operation and arriving at decisions, education, communication, collaboration, and resource management that can readily be scaled up to a full city and beyond
Demonstra­ting A New Approach To Social Change
A major difference setting this project apart from other initiatives that tackle humanity's grand challenges is the systems approach to imagining how society could operate. All permanent residents of the experimental community in the Center for Resource Management will have access to housing, food, water, clothing, energy, education, all at no cost. Resources will be much more intelligently managed - 3D printers, tools, bikes, vehicles, and so on will be collectively used and shared, while ensuring they are in good condition and available without waiting lines. While the technological and social innovation in this first experimental community will be limited by the available resources, the first city and subsequent cities will incorporate lessons learned and improve every aspect of the system. This systems approach can be replicated and scaled up to eventually allow all of humanity to choose to live in cities that implement this new social system. By developing a set of metrics, we can measure how well the social system meets the needs of each member of society. These metrics will measure how well the Center for Resource Management and subsequent cities perform in each of the following areas:
Universal access to clean air
Universal access to clean water
Physical wellbeing of all members of society (including access to effective healthcare)
Universal access to nutritious and healthy food
Ecological sustainability (no greenhouse gases and environmental damage)
Universal access to the best available education
Universal access to comfortable clothing
Safety (little or no violence and crime)
Personal satisfaction
Universal access to comfortable housing
Universal access to effective transportation
The population's engagement and participation in efforts towards the wellbeing of all people
Meet the Team
Under the direct supervision of the NPO Resource Based Economy, the drawings and specifications for the Center for Resource Management are being developed by a globally distributed multi-disciplinary volunteer technical team. This organized group of architects, engineers, technicians and specialists are taking action using their unique skill sets to materialize the technical details required to see this first project become a reality. Let's meet some of the team!
Roadmap & Progress Report
The below graphic shows the progress we have made to date on Phase 1 (last updated: Apr 26, 2019).
Phase 1 - Architectural Programming & Schematic Design Complete

10%
Description
Phase 1 aims to deliver schematic designs for all buildings and infrastructure comprising the Center for Resource Management. This includes all the research and development taking place prior to the design work. Expand the Tasks drop-down below to see our progress on the various components of the Center for Resource Management.
Land Acquisition

Agriculture & Meal Plans

Energy Production

Water Management

Landscaping

Electrical Distribution Network

IT/Telecommunications Network

Pedestrian Traffic Flow Design

Vehicular Traffic Flow Design

District Energy

Storm Water

Visitor/Tourist Transportation System

Textiles

Business Model

Administrative & Legal

Central Hub Building 01

Child Center 02

Exhibition Hall - Movie Theater 03

Exhibition Hall 04

Aircraft Mockup 05

Sculpture 06

Exhibition Hall 07

Helicopter Mockup 08

Tourist Restaurant 09

Data Center 10.1

Fitness Center 10.2

Access Center 10.3

Restaurant & Farmer's Market 10.4

Architectural Model Shop 10.5

Art & Music Center 10.6

Media Center 10.7

Office Spaces 11

Residential Buildings 12

Visitor Dwellings 13, 14, 15
Phase 2 & Phase 3: not yet started.
Budget & Timeline
We are seeking to raise 18 million USD. This will be used to deliver Phase 1 and 2:
Phase 1: Develop 3D schematic designs of all aspects of the Center for Resource Management. Research zoning and government regulations for the proposed project. Expand the project Team.

Budget: $3 m USD
Timeline: 2nd half of 2019

Phase 2: Land acquisition, Legal fees, Compliance with Development requirements according to Local Authority. Construction Documentation for the buildings and infrastructure of the Center for Resource Management.

Budget: $15 m USD
Timeline: 2nd half of 2022

Phase 3: Physical construction of the facilities.

Budget: to be determined
Timeline: commence 2022, complete 2028
Your Help Is Needed
Get Involved as a Professional
We need the volunteer assistance of many different professionals. Please expand the technical description below for more details.
Donate
At this time we are asking for donations to help accelerate the progress of development of this project. Funding received will enable us to focus more extensively on the Center for Resource Management and take it to an advanced stage of development. At that point, we will be able to estimate the cost of the entire facility and announce it.
Your financial contribution is highly appreciated and is what will make this project possible.