Center For Resource Management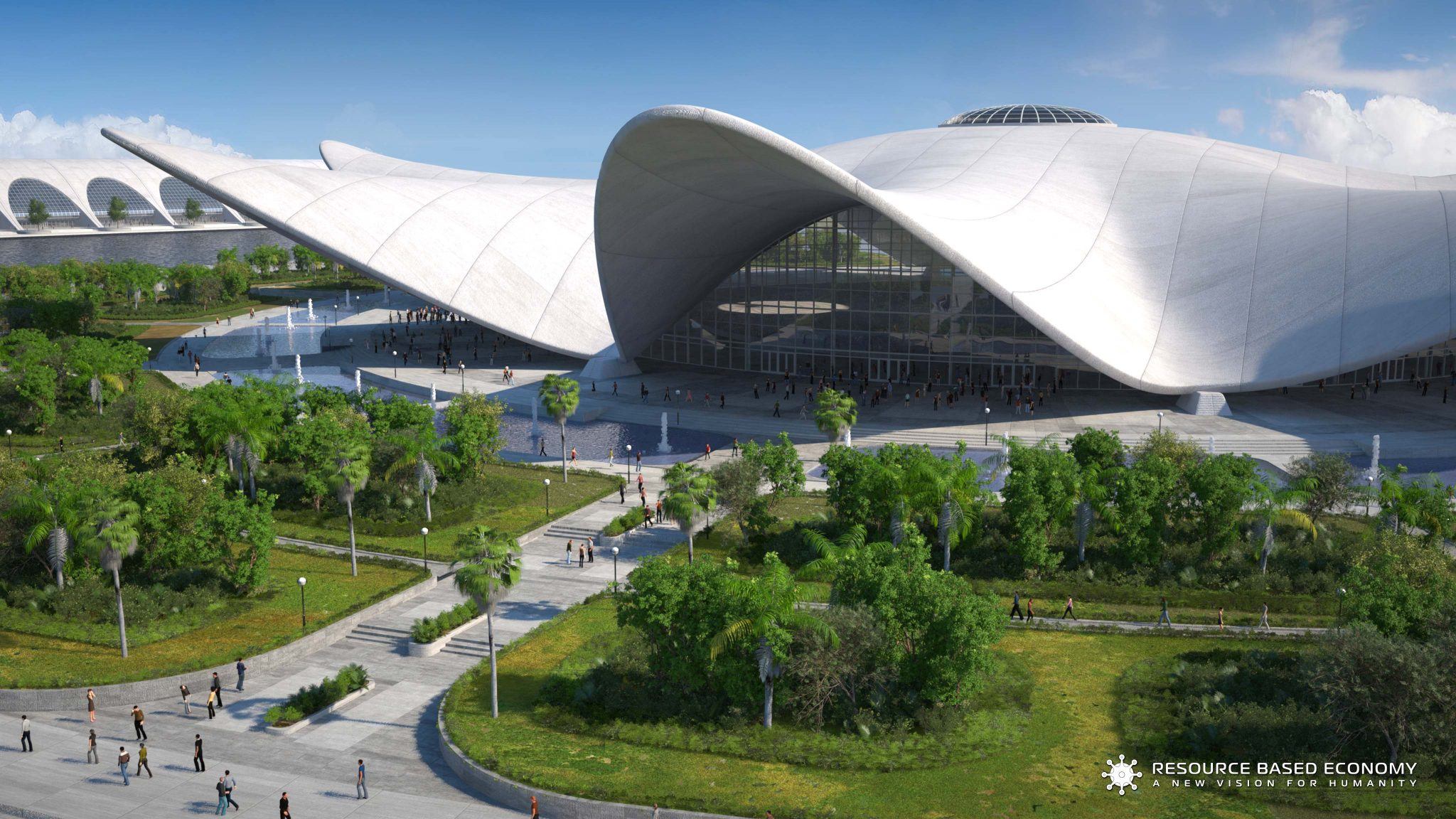 Project Description
The Resource Based Economy NPO has begun development of its first project: the Center for Resource Management. This facility will be the area of a mid-sized university campus and will act as a stepping stone towards the development of our proposed experimental cities.
The goals that the Center for Resource Management is set to accomplish are as follows:
Develop housing, transportation, production, distribution and recycling protocols and various other systems and infrastructure for the first experimental city
Welcome hundreds of thousands of visitors per year and introduce them to the concept of a Global Resource Based Economy and its methodology for addressing the major challenges facing humanity
Produce movies, shows, books, articles, animations, imagery, music and many other forms of media to reach the worldwide community and present the Global Resource Based Economy to them
Engage scientists, technicians, and other disciplines, as well as universities from around the world and, in collaboration with them, initiate global planning for a secure and prosperous future for all of humanity
Demonstrate working solutions for social operation and arriving at decisions, education, communication, collaboration, and resource management that can readily be scaled up to a full city and beyond
To tackle these important challenges, the Center for Resource Management will have over twenty buildings, including housing for a few hundred people who will work towards these goals.
The entire facility will be designed to be as self-sustaining as possible, with all of the energy coming from renewable sources and food grown onsite. Located in the central area will be a "Museum of the Future". This unique museum will present educational exhibitions to help people both understand the state of present-day technology, as well as its potential when utilized humanely within a Global Resource Based Economy. There will be accommodations for visitors who want to stay for more than a day, and educational seminars will be provided for them to learn more about this social direction.
The Center for Resource Management will also house facilities for producing a diverse array of media to help further these aims through films, a CGI studio, and an arts and music center. Residents and visitors will live in single- and multi-unit apartments, with onsite acute medical care also provided. Waste and water will be treated as important resources to be reused. Facilities management cannot be overlooked and will be provided for with a machine shop. R&D labs will be included as well for researchers who want to do related scientific work. An access center will provide on-demand access to a wide variety of goods, similar to how libraries today provide access to books. The whole complex will operate like a leading-edge, green university campus, all immersed in lush landscaping, with winding streams and paths for biking and walking.
The building designs are taken directly from the over 5500 design sketches that Jacque Fresco produced over the last 41 years, with the design layout arranged by Roxanne Meadows. Adam Bouzane, D.EDDT, a Building Technologist, System Administrator, is Project Managing the technical drawings and specifications.
Demonstra­ting A New Approach To Social Change
A major difference setting this project apart from other initiatives that tackle humanity's grand challenges is the systems approach to imagining how society could operate. All permanent residents of the experimental community in the Center for Resource Management will have access to housing, food, water, clothing, energy, education, all at no cost. Resources will be much more intelligently managed - 3D printers, tools, bikes, vehicles, and so on will be collectively used and shared, while ensuring they are in good condition and available without waiting lines. While the technological and social innovation in this first experimental community will be limited by the available resources, the first city and subsequent cities will incorporate lessons learned and improve every aspect of the system. This systems approach can be replicated and scaled up to eventually allow all of humanity to choose to live in cities that implement this new social system.
By developing a set of metrics, we can measure how well the social system meets the needs of each member of society. These metrics will measure how well the Center for Resource Management and subsequent cities perform in each of the following areas:
Universal access to clean air
Universal access to clean water
Physical wellbeing of all members of society (including access to effective healthcare)
Universal access to nutritious and healthy food
Ecological sustainability (no greenhouse gases and environmental damage)
Universal access to the best available education
Universal access to comfortable clothing
Safety (little or no violence and crime)
Personal satisfaction
Universal access to comfortable housing
Universal access to effective transportation
The population's engagement and participation in efforts towards the wellbeing of all people
Instead of voting for representatives who debate over what laws should be put in place, democracy in this setup will work in a more direct way. The public will have access to all the data about the operation of the social system, which will allow for a more informed problem solving. Everyone will be able to put forth their ideas for changes to how the social system works. Proposed changes to the social system can then be tested and measured against the set of metrics to determine whether they provide more benefit to society. After testing, the proposed changes that prove beneficial get implemented. The set of metrics are the unifying factor - they allow us to know how much we are achieving our goals as a society, namely: ensuring wellbeing for all people and the protection and restoration of the environment.
Another important aspect is the management of society. This will be accomplished by each team in the social system working within their own area of competence, and having the ability and access to implement changes in that area. While ensuring a high degree of collaboration between the teams, each team will look after a certain aspect of society - food, water, energy, education, safety, etc. With the progress of technology over the coming years, more and more of the work of the teams will be automated - a process that is well underway and will happen anyway within the current dominant social system. The intent of our proposed social direction is to use technology and automation to provide abundance in all aspects of the society, removing the need to have a small number of people decide how limited resources will be distributed.
Because people living in the Center for Resource Management will not be preoccupied with making a living, they will be able to focus full-time on making changes to this new social system to address any existing problems within the community, while at the same time designing and developing the next-generation systems for a first experimental city built on this social model. Each subsequent city would improve upon every area of the social system and could be bigger in size, allowing testing of the system to happen on a larger and larger scale. By demonstrating the feasibility of this system, we think people, organizations and governments will choose to participate and join efforts with us to replicate it in various parts of the world.
Meet the Team
Under the direct supervision of the NPO Resource Based Economy, the drawings and specifications for the Center for Resource Management are being developed by a globally distributed multi-disciplinary volunteer technical team. This organized group of architects, engineers, technicians and specialists are taking action using their unique skill sets to materialize the technical details required to see this first project become a reality. Let's meet some of the team!
Your Help Is Needed
Get Involved as a Professional
We require the volunteer assistance of Engineers, Architects, and Technicians in all forms. Please expand the technical description below for more details.
Donate
At this time we are asking for donations to help accelerate the progress of development of this project. Funding received will enable us to focus more extensively on the Center for Resource Management and take it to an advanced stage of development. At that point, we will be able to estimate the cost of the entire facility and announce it.
Your financial contribution is highly appreciated and is what will make this project possible.